"He chose Seiki, I chose Chouka... we follow two different paths... yet neither path is easily finished Taikoubou!!"
— Bunchuu reflecting on his and Taikoubou's positions.
Bunchuu
Biographical Information
Kanji

聞仲

Rōmaji

Bunchū

Basic Information
Gender

Male

Status

Deceased
Alive (1999 Anime)

Professional Information
Paopei
Spiritual Beast
Debut
Anime

Episode 1 (2018)

Media
Voice Actors
Japanese Voice

Takashi Matsuyama (1999)
Tomoaki Maeno (2018)

English Voice

Robert Kraft (1999)
J. Michael Tatum (2018)

Image Gallery

Bunchuu 「聞仲, Wen Zhong」 is an antagonist of the Houshin Engi anime and manga series and is the Taishi of the Yin.
Appearance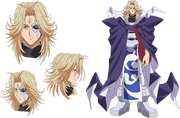 Describe the character's appearance here.
Personality
Describe the character's personality here.
History
Write about the character's background (past) here.
Plot
Brothers of the Sky Arc
Two Princes I Arc
Idle Talk
Buseiou's Rebellion Arc
Shisei Arc
Past, Present, and Future Arc
Maka Yonshou Arc
Spy Arc
Killer Virus Arc
Two Princes II Arc
Chou Koumei Arc
Sennin War Arc
Togenkyou Arc
Son of Heaven Arc
Signpost of History Arc
Equipment and Abilities
Paopei
Abilities
Relationships
Sennin World
Battles
Quotes
(To Himself) "He chose Seiki, I chose Chouka... we follow two different paths... yet neither path is easily finished Taikoubou!!" — Bunchuu
(To Shinkouhyou) "The Yin is something I think of as my own child. What kind of father would be pleased to see his child destroyed?" — Bunchuu
Trivia
References