Please see our wiki's policies and guidelines here before contributing!
Welcome to the Houshin Engi Wiki!
Welcome to the Houshin Engi Wiki!
Your online source for all information on the manga and anime, Houshin Engi.
This wiki already contains 5,332 number of edits and a total of 415 articles since its creation on July 31, 2013.
» Please do be aware that UNMARKED SPOILERS lie within! «
Rules & Guidelines • Manual of Style • Articles in Need! • Request for Adminship • Admins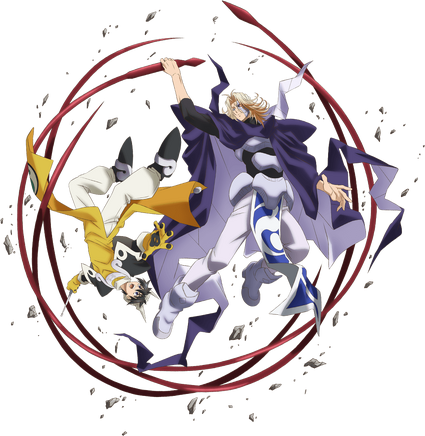 Characters
News
(December 16, 2017) 2nd PV Release, Opening and Ending Details, and Episode Count - The second PV has been released of the upcoming anime. It was also revealed that the opening theme, "Keep the Heat and Fire Yourself Up", will be performed by Fear and Loathing in Las Vegas and the ending theme, "Madoi Mirai", will be performed by Yanagi Nagi. The series will be adapted into 23 episodes with a special episode on the 8th BD/DVD release. (Source: [1])
(November 1, 2017) Anime Site Updated and PV Release - The first PV has been released of the upcoming anime and the official anime site has been updated with new visuals.
(October 30, 2017) Character Designs For New "Houshin Engi/Soul Hunter" Anime Previewed - The latest preview of the production comes in the form of a survey of eleven character design pieces. (Source: [3])
(Sept 29, 2017) New Hoshin Engi Anime Reveals January Premiere, 3 More Cast Members - The official website has announced that the premiere of the remake will be in January 2018. They have also announced 3 new cast members for the roles of Youzen, Kou Tenka, and Nataku. (Source: [4])
(July 31, 2017) New TV Anime To Adapt "Houshin Engi/Soul Hunter" - Continuing the anime news set to be revealed in the upcoming double issue of Young Jump, Ryu Fujisaki's 1996-2000 Chinese mythology-inspired Hoshin Engi aka Soul Hunter is set to be adapted into a new TV anime. The new voice actors for Taikoubou, Sibuxiang, and Bunchuu have been announced. An approximate air date, however, has yet to be mentioned. (Source: [5])
About
"The story is set in legendary China. A beautiful female fox spirit named Dakki, is controlling the Emperor Chuu Ou and the ruling Yin dynasty, and is using her power over him to do evil in the nation. An immortal-in-training named Taikoubou, is chosen by the great immortal sages for the Houshin Project — to seal away or destroy the evil demons that infest the world. In the course of his adventures, Taikoubou gathers other powerful companions and sets out to seal away the demons and eventually destroy the fox-spirit Dakki."

Houshin Engi 「封神演義」 is a Japanese manga series inspired by the Chinese classic, Fengshen Yanyi, and is written and illustrated by Ryu Fujisaki, spanning 204 chapters with a total of 23 volumes. A 26-episode anime television series adaptation by Studio Deen premiered in the Summer season of July 3rd, 1999 and ended on December 25, 1999.
On July 31, 2017, it was announced that a new TV anime of the manga series was greenlit. The remake will air on Fridays starting on January 12, 2018 and will cover the Sennin War Arc of the manga.
Polls
Airing Time
Houshin Engi (2018) will air on Fridays starting January 12, 2018.
Houshin Engi (1999) began broadcast in Japan on July 3, 1999 and ended on December 25, 1999.
Featured Media
External Links
Twitter Feed
Affiliates
If you are interested in affiliating with us, please contact an admin.
Upcoming Anime Highlights