Nataku 「哪吒, Nezha」 is a supporting character of the Houshin Engi anime and manga series and is a Paopei Human from Kun Lun. He was created by Taiitsu Shinjin and is the son of Li Sei and In Shi. Once dead and now revived, with the aid of Taiitsu, his new body was built via a lotus flower.
Appearance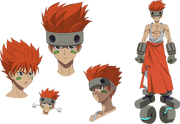 Nataku has spiky red hair and wears a long red scarf, white clothes, and a red cloth on his waist. The red cloth on his waist is actually a Paopei that allows his to stir and disturb liquid substances.
Personality
Nataku may seem cold and emotionless, but according to himself, he has a serious grudge against his father who was responsible for destroying the grave his mother made for him when he died; Nataku has had many chances to kill his father, but never did. Nataku also has a soft spot for his mother, and also for Kou Hiko's fourth son Kou Tenshou, whom he took care of after most of his family died.
He exists largely to fight and is more "directed" by Taikoubou (provided that he actually listens). Nataku has no qualms about shooting his weapons at people.
History
Write about the character's background (past) here.
Plot
Write about the character's experience and significance to the plot here.
Plot
Human Paopei Arc
Genius Doushi Arc
Shuchi Nikurin Arc
Brothers of the Sky Arc
Two Princes I Arc
Idle Talk
Buseiou's Rebellion Arc
Shisei Arc
Past, Present, and Future Arc
Maka Yonshou Arc
Spy Arc
Killer Virus Arc
Two Princes II Arc
Chou Koumei Arc
Sennin War Arc
Togenkyou Arc
Son of Heaven Arc
Signpost of History Arc
Equipment and Abilities
He can fly thanks to his special paopei, Fuukarin, boots which have a metal wheel under each one. He also possesses a weapon paopei in the shape of 2 iron bracelets called Kenkonen, which work as homing missiles and striking his target with tremendous force. Throughout the manga, Nataku gets several "up grades", namely from Taiitsu who gives him new weapons. Towards the end, Nataku becomes paopei "customized" and has the super paopei Kinkousen (previously wielded by Chou Koumei) which allows him to summon Dragons made of light.
Relationships
Sennin World
Human World
Battles
Quotes
Family Tree
Trivia
Write true fun facts about the character; i.e. information leaked by the author about the character, like hobbies or likes, or even something that is shown in a chapter. List them as bullets
References