Ou Tenkun
Biographical Information
Kanji

王天君

Rōmaji

Ōtenkun

Also known as

Ou Eki
Fukki

Basic Information
Gender

Male

Class
Hair Color

Black

Eye Color

Black

Relations

So Dakki (Adoptive Mother) †

Status

Active

Professional Information
Paopei
Affiliation(s)

Kun Lun Mountain (formerly)
Kingo Island
So Dakki

Debut
Manga
Anime
Media
Other Media

Houshin Engi (PS2)

Voice Actors
Japanese Voice

Nobuhiko Okamoto (2018)

Image Gallery

Ou Tenkun 「王天君, Wang Tian-Jun」 is an antagonist of the Houshin Engi manga series and is the leader of the Juutenkun of Kingo Island.
Appearance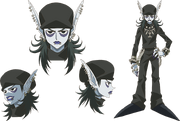 Ou Tenkun has shoulder length, thickly curved black hair that is always hidden beneath a black hat. He always wears black clothes, and a ton of jewelry on his person, most of which pierced his long 'elf-like' ears, or around his wrists and fingers. He also has a fascination with decorated crosses, which he wears patterned on his clothes, hat and several metal decorations hanging from chains. His skin is a sickly pale blue. And he has unusually long nails; which he likes to bite whenever he's deep in thought.
Personality
Ou Tenkun is a cunning and devious individual with a sadistic streak a mile wide. He acts apathetic towards everything and everyone with the exception of Dakki, whom he considers his 'mother'. Everything and everyone are simply chess pieces or toys for him to play with, and when they lose all their worth, they are simply disposed of.
Ou Tenkun is also obsessed with revenge against those who have betrayed him in the past. Having had his innocent childhood stolen from him due to a decision beyond his control, Ou Tenkun is obsessed with being in control, with being the one behind the scenes manipulating all to his whim. He especially loves toying with those he had a grudge against.
History
Write about the character's background (past) here.
Plot
Sennin War Arc
Son of Heaven Arc
Signpost of History Arc
Equipment and Abilities
Paopei
Abilities
Relationships
Sennin World
Battles
Quotes
Trivia
References