"Making interesting events even more interesting is my policy. So for that, let us add to the fun."
— Shinkouhyou to Kokutenko
Shinkouhyou
Biographical Information
Kanji

申公豹

Rōmaji

Shinkōhyō

Basic Information
Gender

Male

Age

1000+

Class
Hair Color

White

Eye Color

Black

Status

Active

Professional Information
Paopei
Spiritual Beast
Master
Debut
Manga
Anime
Media
Voice Actors
Japanese Voice

Akira Ishida (1999)
Kousuke Toriumi (2018)

English Voice

Jim Canning (1999)
Kyle Igneczi (2018)

Image Gallery

Shinkouhyou 「申公豹, Shen-Gong Bao」 is a supporting character of the Houshin Engi anime and manga series and is a Doushi unaffiliated with the Sennin World.
Appearance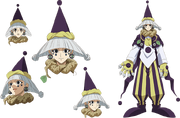 Describe the character's appearance here.
Personality
Describe the character's personality here.
History
Write about the character's background (past) here.
Plot
Beginning Arc
Human Paopei Arc
Genius Doushi Arc
Shuchi Nikurin Arc
Brothers of the Sky Arc
Two Princes I Arc
Idle Talk
Buseiou's Rebellion Arc
Shisei Arc
Past, Present, and Future Arc
Maka Yonshou Arc
Spy Arc
Killer Virus Arc
Two Princes II Arc
Chou Koumei Arc
Sennin War Arc
Togenkyou Arc
Son of Heaven Arc
Signpost of History Arc
Equipment and Abilities
Paopei
Abilities
Relationships
Sennin World
Battles
Quotes
Trivia
References