"First I must perform a test and prove that Taikoubou's abilities surpass my own. And if Taikoubou fails to meet my expectations, then I shall take over the Houshin and defeat Dakki myself!!!"
— Youzen offering his support should Taikoubou complete his trial.
Youzen
Biographical Information
Kanji

楊戩

Rōmaji

Yōzen

Also known as

Kenseijiro Shinkun (Sennin Name)
Genius Doushi (Epithet)

Basic Information
Gender

Male

Class
Hair Color

Blue

Eye Color

Violet (Manga/1999 Anime)
Green (2018 Anime)

Relations

Tsuuten Kyoushu (Father) †

Status

Active

Professional Information
Paopei
Master
Affiliation(s)
Debut
Manga
Anime
Media
Other Media

Jump Ultimate Stars
Houshin Engi (PS2)

Voice Actors
Japanese Voice

Susumu Chiba (1999)
Yuuichi Nakamura (2018)

English Voice

Ben Wolfe (1999)
Ian Ferguson (2018)

Image Gallery

Youzen 「楊戩, Yang Jian」 is a supporting character of the Houshin Engi anime and manga series and is a Youkai Sennin from Kun Lun. He is the disciple of Gyokutei Shinjin and the son of Kingo Island's leader, Tsuuten Kyoushu.
Appearance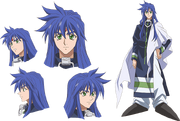 Describe the character's appearance here.
Personality
Describe the character's personality here.
History
Write about the character's background (past) here.
Plot
Genius Doushi Arc
Shuchi Nikurin Arc
Brothers of the Sky Arc
Two Princes I Arc
Idle Talk
Buseiou's Rebellion Arc
Shisei Arc
Past, Present, and Future Arc
Maka Yonshou Arc
Spy Arc
Killer Virus Arc
Two Princes II Arc
Chou Koumei Arc
Sennin War Arc
Togenkyou Arc
Son of Heaven Arc
Signpost of History Arc
Equipment and Abilities
Paopei
Abilities
Relationships
Sennin World
Battles
Quotes
Trivia
References